Next Level Travel Guides. This ain't no Fodor's, this ain't no Lonely Planet, this ain't no askin' arouuuund. These are the least basic bitches writing about the experience of really visiting a place with a romantic, deeply local sensibility that a "super trendy, $$$" review simply cannot provide. To wit: Mary McCarthy's Stones of Florence and Venice Observed; Arlen Hansen's Expatriate Paris; any of William F. Buckley's sailing books (Airborne and Cruising Speed, in particular).
And speaking of Mr. Buckley—William F. Buckley, Jr. Am I the world's only pearl-clutching hipster? Probably. The only part I hate about admitting that I'm digging William F. Buckley this week is how little I hate to admit it. (Ed. note: huh? (Ed. note: aren't I also the author?)) I even made a Pinterest board called "God and Man on Pinterest." (Thank God for those new secret boards.) But like, when I have my Tuesday night Scotch and Cavett Party, where I drink scotch with my stuffed animals and watch intellectuals go at it, I tell my stuffed animals I'm totally team Vidal, but lately, I'm really feeling I'm for Buckley at heart. Just listen to the way he mockingly quotes Vidal calling Reagan "an aging, Hollywood juvenile actor," pulling on all the words as if it's the most inadequate way any person's ever wrongly insulted another human.
Ending your evening at Melon with a Bloody Mary and a slice of sour apple walnut pie.
Buy shoes and screw the rest. Buy a shoe a month and buy other things sparingly. You could buy this Vanessa Bruno Athe dress from Otte that I've been dying over for about a thousand years at the beginning of a season and buy nothing else but a pair of killer shoes every month until it's spring, when it's time to buy a new suit. (I don't know where that's written in stone, but I'm pretty sure it is.)
Now how do you buy a shoe? The key is to follow Vitruvius's old triumvirate of qualities that make a work of architecture truly great: commodity, firmness, and delight. I know they say weebles wobble but they don't fall down, but I have to tell you folks: they do. So stay low to the ground, weird but not trendy, and when in doubt, ask yourself if the the ideal bad-ass grandmother (age 60) would wear them while holding court at the 21 Club. Here are some of my premium favorites from TheCorner.com, which is currently offering a whopping extra 30% off if you enter "thankyou" at checkout.
Carven Heel. 
Commodity: Reasonable heel, closed-toe. 
Firmness: Classic shape, a small rainbow of colors to complement most items you own (including your parents' favorite needlepoint pillows!)
Delight: Hi, there's a Bayeux Tapestry on my feet.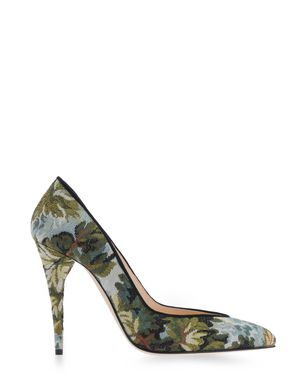 Nicholas Kirkwood Mocassin.
Commodity: A flat, meaning you are the Ashlyn Blocker of footwear.
Firmness: Picasso references are always in.
Delight: The shoe you wear to Art Basel. So you get to pretend you're going to Art Basel.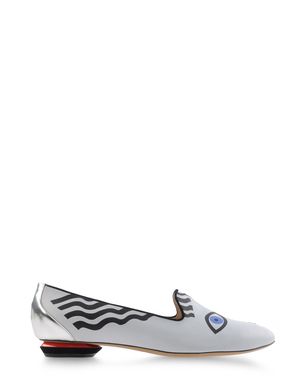 MM6 by Maison Martin Margiela Boot.
Commodity: The classic brown flat boot.
Firmness: …THAT ZIPS INTO AN ANKLE BOOT.
Delight: It's a boot that is like wearing a mask. We all wear masks. Even boots.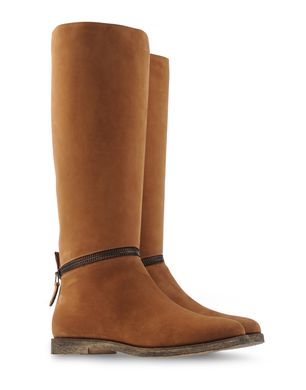 Giuseppe Zanotti Design Ankle Boot. 
Commodity: Bitty heel.
Firmness: Pilgrim chic.
Delight: Way cooler than the stodgy Marc Jacobs iterations, which, despite being the original Pilgrim Chic shoes, took the silhouette so seriously that they look ironic. These are a more relaxed interp and are purple, because you are the royal highness of New York (or your town)!!!!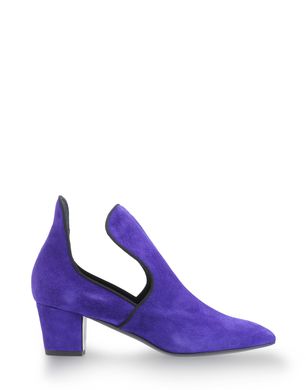 Cesare Paciotti Heel.
Commodity, Firmness, and Delight: This is a sexy shoe for a grown-up gal. The wearer goes to a bar and skips the Blood Orange Zest Cosmo for a gin and tonic, thanks.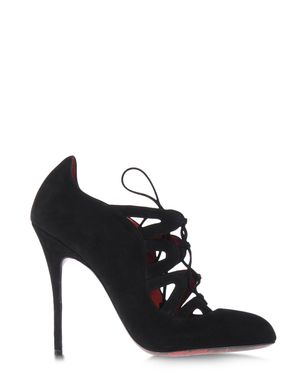 Carven Bow Heel.
Commodity: This heel is higher than three inches, I think, but that is one heeeeeeeeeeell of a line.
Firmness: Medieval stuff never goes out of style, unless you lived in the Renaissance. And like even then, I mean, you know.
Delight: In no other universe will you catch a bow teaming up with a stained glass window.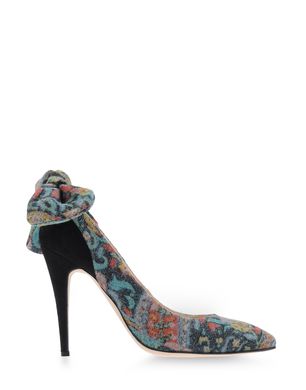 Nicholas Kirkwood Sandal.
Commodity: Your ankles are wearing their seatbelts!
Firmness: Should you find the Carvens too precious, these jewel tone babies are filled with whimsy, but at the end of the day, they just want someone to read the Times with them on Sunday morning.
Delight: Ah, that satin cap-toe is taking me higher.