Happy autumn! Eat a mooncake! 
My roommate, L'Asian, and I have spent the last few weeks poring over the Lower East Side's hottest purveyors of zoot suits to get the dopest looks for fall. And you know what? I think we've achieved it. Well, at least I have; I can't speak for old weepy tunes over there. 
Here I am in this season's MUST-HAVE 3D INTESTINAL DETAIL SKIRT.
Holy hotdogs, I look freshy-fresher than the coolest thing I can think of. Skirt by Martin Lamothe, availz at Pixie Morket. Boots by Finsk. Jacket by who cares? Does an innocent animal have to die so you can stay warm? (But I mean, this is pretty cool.) 
Now turn to the side….
Where'd I go?! Oh, internet jokes!
Here I am for real with my real bodacious bod, the one that launched a thousand ships:
Bag by the Philadelphia Cream Cheese Company for Target. Body by like 200 of those little mini Snickers bars. More like trick AND treat!!!!
And what's that you see on my Trendy McTrendoid detachable collar? 
Oh, just a sweet message for the family viewers at home. 
Sweater by Something Elf by Natalie Could. 
And remember: reach for the moon, because even if you happen to miss you'll land among the stars.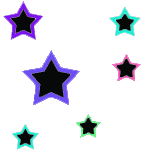 stars, stars, starrrrs
Love yourself, love me more,
<3pizza<3<3